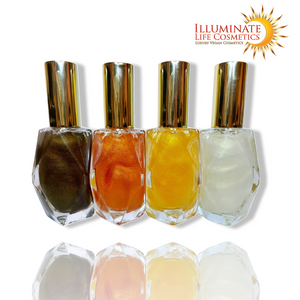 The Starting Four
Regular price $135.00 Sale
Installment Payments Available At Checkout
Get our entire Mattifying Illuminating Setting Spray Collection at a discount! This collection is perfect for you amazing makeup artist as it will give you variety and versatility for your makeup artistry kit! 
We wanted to offer a setting spray that will give a phenomenal glow without leaving a dewy finish. Not only that, but we wanted to ensure this product will be beneficial for all skin types from Oily to Dry. This setting spray is even beneficial for sensitive skin because we only use natural plant ingredients in our formula. The Mattifying Illuminating Setting Spray & Toner
™
 can also be used as a BOMB body shimmer spray! 
Each and every spray is hand made, mixed, and filled by hand with lots of love.
Why this product?
Every single spray is made to order by hand . 
Never worry about if your makeup product will harm your skin again. Combat acne & hyperpigmentation and simultaneously keep your makeup on ALL day. This product is amazing at controlling oil production without drying out the skin. The plant based, chemical free formula fortifies the skin making it a perfect daily facial toner. This product can be used anytime with and without makeup. Save Your Skin & Slay Your Makeup with one product.
Who is this product for?
Those who:
have acne/acne scarring, have hyperpigmentation, like a matte finish for their makeup, want a plant based alternative for luxury/high end cosmetics, prioritize the health of their skin, are looking for a facial toner that will give a radiant glow to the skin, are makeup artists/enthusiasts.
What is it made out of?
Aloe Vera
- Creates a protective barrier on the skin to reduce acne inflammation
Witch Hazel
- Relieves Inflammation, Kills Bacteria, Fades Hyperpigmentation
Lavender Hydrosol
- Soothes Skin, Blemish Control
Rice Protein
- Control Oil Production
Daucus Carota Sativa Root Extract
- Infuses Vitamin C to fade acne scarring
Mica Minerals
- Give a healthy radiant golden glow to your skin.
What is it packaged in?
It is packaged in a reusable and recyclable 2oz glass diamond cut bottle with a metal gold fine mist sprayer.
Shake very well to activate illumination. Contents will settle.